Assistant Construction Supervisor – Home Preservation
Benefits
Full Time
Hourly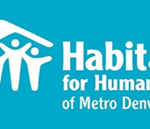 Website Habitat for Humanity of Metro Denver
This position supports Construction Supervisors in the field with daily responsibilities. The Assistant Construction Supervisor (ACS) will be trained in construction skills, site management, task management, volunteer management, and homeowner interaction.
Position: Assistant Construction Supervisor – Home Preservation
Location: Denver, CO
General Description:
This position supports Construction Supervisors in the field with daily responsibilities. The Assistant Construction Supervisor (ACS) will be trained in construction skills, site management, task management, volunteer management, and homeowner interaction.  The ability to work effectively with a diverse group of individuals is required.  You will interact with AmeriCorps members, volunteers, Habitat h, city inspectors, and subcontractors.  You will be working with volunteer crews of various ages and skill sets, while learning all the details of a construction project: project assessment, scheduling, material planning, sub-contractor management, and construction.  The ACS will support the various Home Preservation programs including Home Repair, Renovation and Aging in Place.
Responsibilities and Duties:
Teamwork and Construction
Acts as an on-site ambassador for the mission of Habitat Metro Denver and demonstrates values and behaviors aligned with our Cultural Blueprint.
Works shoulder to shoulder with volunteers on the worksite and ensures that they have a consistently positive experience.
Works in partnership with the homeowners to ensure a meaningful jobsite experience.
Assists in the interior demolition of kitchens, bathrooms, walls, flooring, and ceiling.
Assists in the exterior demolition of siding, doors, windows, trim, wood structures, and other.
Assists in tasks related to carpentry, drywall, finish trim, cabinet installation, framing out new walls and building structures.
Strong communication and attention to detail.
Must be eager to learn construction best practices and procedures.
Drive company vehicles to pick up and deliver materials & load/unload materials as needed.
This is a hands-on position building 5 days a week.
Safety
Role model and effectively communicate to volunteers and contractors that safety is the first priority on the construction site.
Help ensure that everyone on our job sites consistently adheres to all established safety policies and procedures.
Inspects tools daily for broken or frayed cords, guard presence, condition of blades, all prongs present and tools have not been altered in any way outside of manufacturer specifications.
Attend required safety trainings.
Report all accidents/near misses to the Construction Supervisor.
Knowledge, Skills, Abilities, and Other Qualifications:
Some general knowledge of construction, but more importantly, the willingness to continuously learn more.
Bi-lingual, English – Spanish, highly desirable.
Proven ability to work in a fast pace, constantly evolving environment.
Ability to identify and help solve problems efficiently.
Outstanding communication and interpersonal skills necessary to communicate clearly and professionally with homeowners, volunteers, contractors, suppliers and coworkers.
Who You Are:
You're someone who people can rely on and you're always there when they need a helping hand. You like variety in your work and enjoy a unique challenge every day. You love working with your hands and stepping back to admire a job well done. You're looking for a new position where you can make a difference in your life, the lives of others, and the world. In return, you seek an organization that appreciates your individuality and supports you as a member of a diverse and talented team. People often comment how you're organized, a quick learner, and open to new things. You know in your heart it's time to find an opportunity to be part of something larger; more impactful. If this sounds like you, please allow us to introduce ourselves.
Who We Are:
Habitat for Humanity of Metro Denver (Habitat Metro Denver) is part of a global, nonprofit housing organization that seeks to bring people together to build homes, communities, and hope. Habitat for Humanity was founded on the conviction that everyone needs an affordable, healthy, and stable place to live in dignity and safety, and that affordable housing should be a matter of conscience and action for all.  To achieve our vision of a world where everyone has a decent place to live, Habitat Metro Denver builds, renovates and sells homes in partnership with low- and moderate-income families. Our organization also works with existing low-income homeowners in more than 2,500 households. We are the eighth-largest homeownership producer in the Habitat for Humanity network nationwide. Habitat Metro Denver is also an advocate for policies that create and preserve affordable housing. We work in neighborhoods across five counties in Metro Denver to not only build, renovate and sell new homes, but also to do critical home repairs to help families stay in their homes longer. Throughout our 43-year history, Habitat Metro Denver has served more than 2,500 households and is the 8th largest producer in the Habitat U.S. network.
Work Environment and Conditions, Physical Requirements Necessary to Perform This Job:
Ability to adequately traverse a residential construction job site (i.e. climbing, lifting, carrying a minimum of 50 lbs., and other similar activities as required).
Ability to safely use residential construction power tools.
Ability to safely operate a construction vehicle (pickup truck or similar). A current Motor Vehicle Report is required.
Ability to work in exterior environment during a variety of weather conditions.
Proof of COVID-19 vaccination is required for employment.
Job Type:

Full-Time
Compensation:
The Starting Pay Range is $18.00 – $20.00 / hr. with consideration given for applicable education or experience above the minimum requirements.